The Box for Delivery Packages: Safeguarding Your Goods from Paws and Passersby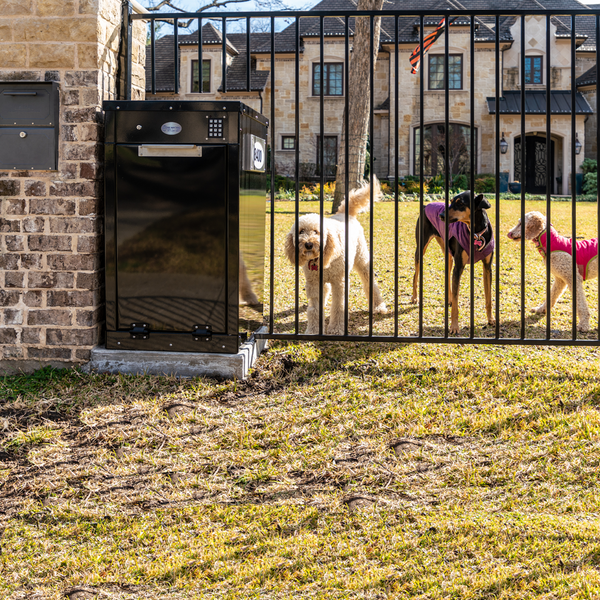 In the modern age of online shopping and home delivery services, it's not uncommon for homeowners to receive packages on a regular basis. From everyday essentials to gourmet groceries and even those mouthwatering, expensive steaks, our doorsteps are constantly graced with the presence of these convenient deliveries. However, for one homeowner, the arrival of these packages often turned into an unintentional game of fetch for their mischievous dogs. That's when they realized the importance of a secure box for delivery packages and the savior it brought in the form of the Box Sentinel.
The "Retrieval" Problem:
Imagine having not one, not two, but three energetic dogs who think every delivery is a gift from the heavens, just for them. That was the daily struggle for this homeowner. The moment the delivery person made the classic "package toss over the fence," the dogs saw it as an invitation to a fun game of fetch. The result? Torn packages, damaged goods, and, worst of all, the constant headache of losing precious deliveries.
The Unintentional "Security" Measures:
The delivery person had their own idea of a secure drop-off method. Throwing the package over the fence seemed like an efficient solution. Little did they know, they were throwing the packages right into the clutches of the four-legged thieves. With every toss, it became more evident that something needed to change to keep those delicious steaks and other essential items safe.
The Need for a Box for Delivery Packages:
Frustrated with this predicament, the homeowner realized they needed a secure solution to safeguard their deliveries from both the mischievous pups and accidental tosses. That's when they turned to the Box Sentinel.
The Box Sentinel – A Game Changer:
The Box Sentinel is a secure and reliable box for delivery packages designed to ensure your packages are safe until you get home. Here's how it worked for our beleaguered homeowner:
Comprehensive Package Security:

The Box Sentinel's primary mission is to keep your packages safe from all possible threats. For our homeowner, it meant the end of torn packages and vanished groceries. The lockable design ensures that your valuable items are inaccessible to pets, passersby, and adverse weather conditions. No more soggy cardboard or damaged electronics!
Innovative Finger-Bottom Design:

The

Box Sentinel

's patented finger-bottom design is a game-changer. When either door is opened, parcels are gently lifted up and out of the box. This feature transformed the homeowner's delivery experience. Their expensive steaks and fragile items no longer suffered the harsh landing of a delivery person's toss; they were cradled to safety.
Keypad Controller for Security:

The Keypad controller adds an extra layer of security to the

box for delivery packages

. The homeowner could set a unique code for secure access. This feature was particularly useful when they had multiple deliveries scheduled. It provided peace of mind, knowing that only authorized personnel could access the box.
Easy and Secure Rear Door Access:

The rear door access was a game-changer. For our homeowner, it simplified the process of retrieving packages. They could access their deliveries without having to bend or reach deep into the box. This convenience made package retrieval a breeze, even with three curious dogs in tow.
Interior Cabinet Light:

The interior cabinet light was a thoughtful addition. It automatically illuminated the box's interior when either door was opened, making it easy to locate and retrieve items, even during low-light hours. For our homeowner, this was especially helpful during evening arrivals.
Solar Options for Sustainability:

The

Box Sentinel

also offers solar options, aligning with sustainability goals. Our homeowner appreciated this feature as it allowed them to reduce their carbon footprint while ensuring the safety of their deliveries. Solar-powered lights and security features made this box both eco-friendly and efficient.
Conclusion:
For anyone who constantly receives mail-order groceries or valuable items, investing in a
box for delivery packages
like the
Box Sentinel
can be a game-changer. It's a simple yet effective solution to ensure that your packages are safe and sound until you can retrieve them, even if you have a trio of dogs who love a good game of fetch. So, say goodbye to the hassle and worry of package deliveries and embrace the convenience of a secure box that keeps your items safe and sound. The
Box Sentinel
: because your deliveries deserve the best protection.