Why Every Home Needs a Residential Parcel Drop Box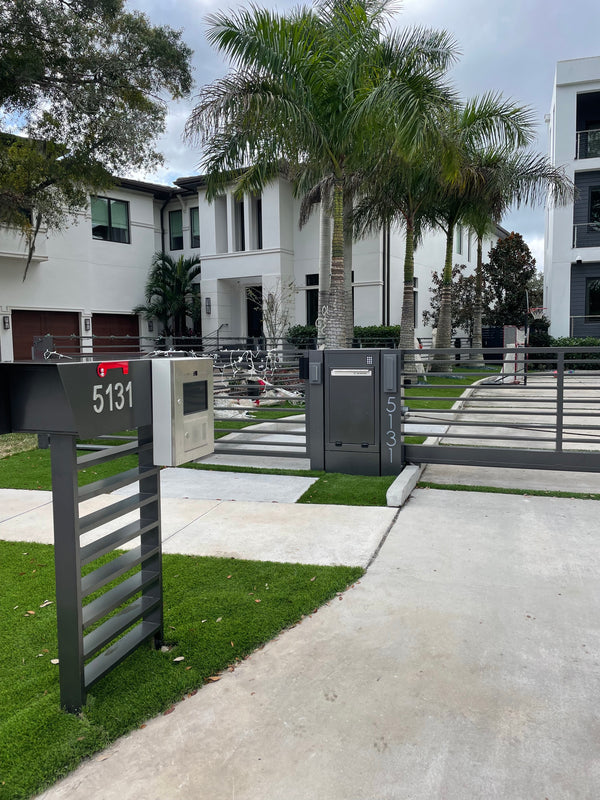 In an age where online shopping has become the norm, our doorsteps are often cluttered with packages of all shapes and sizes. From the convenience of ordering groceries to finding the perfect gift, e-commerce has transformed the way we shop. However, along with this convenience comes the challenge of managing deliveries, ensuring the safety of our packages, and preventing porch piracy. This is where  a residential parcel drop box comes into play. They're not just a luxury; they're a necessity. In this blog, we'll explore the growing need for residential parcel drop boxes and how they can simplify your life.
The Surge in Online Shopping
The rise of online shopping has been nothing short of revolutionary. With the click of a button, you can have almost anything delivered to your doorstep. It's not just limited to retail items; services like meal kit deliveries, prescription drugs, and even furniture are now readily available online. The convenience and variety are unbeatable, but it also means a significant increase in the number of packages delivered to your home.
The Problem of Porch Piracy
As online shopping continues to grow, so does the problem of porch piracy. Thieves are quick to seize opportunities, snatching packages from doorsteps when no one is home. According to a 2020 report by C+R Research, 43% of Americans have experienced package theft. This not only results in financial losses but also leaves homeowners feeling violated and unsafe.
The Solution: Residential Parcel Drop Boxes
Residential parcel drop boxes are the answer to this growing problem. These secure, lockable containers provide a designated space for delivery personnel to drop packages safely. Here's how they simplify your life:
Security and Package Protection:

Theft Prevention:

One of the most significant benefits of a

residential parcel drop box

is the prevention of package theft. They provide a secure location for your packages, reducing the risk of porch piracy. Knowing your deliveries are safe eases your worry about theft.

Protection from Weather:

Parcel drop boxes shield your packages from the elements. Rain, snow, or harsh sunlight won't damage your deliveries. No more soggy boxes or sun-faded items.
Convenient Delivery and Retrieval:

24/7 Access: A

residential parcel drop box

is accessible around the clock. This means you can pick up your packages at any time that suits you, whether you work late hours or have irregular schedules.

Multiple Deliveries:

If you receive numerous packages in a day, you won't have to worry about them cluttering your doorstep. A parcel drop box can accommodate multiple deliveries, keeping everything organized in one secure place.
Contactless Interaction:

Safety during Pandemics:

In times of health concerns like the COVID-19 pandemic, contactless delivery and retrieval are essential. Parcel drop boxes allow for safe exchanges without face-to-face contact.
Convenience for Various Needs:

Online Shopping:

For avid online shoppers, residential parcel drop boxes are a game-changer. You can continue to shop without the stress of missed deliveries or stolen packages.

Work from Home:

If you work from home or have a home-based business, a

residential parcel drop box

makes it easy to receive work-related packages without interruption.

Family and Friends:

When friends or family members come to visit, they can safely drop off items without needing you to be present to receive them.
Peace of Mind:

Reduced Anxiety:

Parcel drop boxes alleviate the anxiety that can come with wondering if your packages will be safe until you get home. You can relax knowing your deliveries are in a secure location.
Enhancing Property Aesthetics:

Stylish Options:

Many parcel drop boxes are designed with aesthetics in mind. You can choose a style that complements your home's exterior, enhancing its overall appearance.
Customization and Smart Features:

Customized Access:

Some parcel drop boxes offer customizable access codes or smart lock features, allowing you to grant temporary access to delivery personnel while maintaining security.
Reducing Environmental Impact:

Minimized Packaging Waste:

With a

residential parcel drop box

, you can consolidate multiple deliveries attempts, this contributes to a greener lifestyle by minimizing packaging waste.
Choosing the Right Parcel Drop Box

When selecting a residential parcel drop box for your home, consider factors like size, style, and installation. Some are designed to blend seamlessly with your home's exterior, while others are more utilitarian in appearance. Choose one that suits your needs and complements your property.
In conclusion, as online shopping continues to flourish, residential parcel drop boxes have become a must-have addition to any home. They simplify your life by safeguarding your packages, preventing theft, and offering convenient access to your deliveries. The peace of mind they provide is invaluable in today's fast-paced world of e-commerce. Don't wait until your next package goes missing – invest in a residential parcel drop box and enjoy the convenience and security it brings to your doorstep.