Finding The Right Locking Mailbox For Packages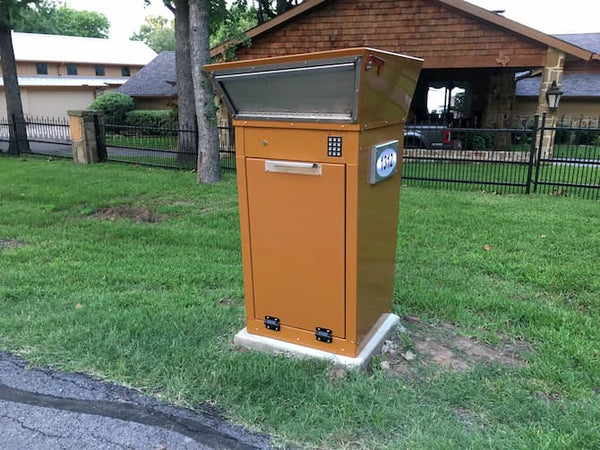 So you've decided to install a locking mailbox at your home to keep your parcels and deliveries safe—it's a smart move. So-called package pirates are as active as ever, meaning your valuable (and sometimes priceless) deliveries are at risk for theft. There are many ways to mitigate the risks of parcel theft, ranging from doorbell cameras to delivery company memberships to retail location package pickup, but none of them are as secure and convenient as a locking parcel safe.
But if you're going to invest in a locking mailbox solution, you'll want to make sure you're getting one that works for your needs and is actually secure enough to prevent theft. There is a long list of things to think about when finding the right locking mailbox for packages. We've put together a guide with everything you should consider before you decide how to keep your mail secure.
1.      Construction and Materials
Most standard mailboxes you see are made of either wood or lightweight aluminum. This is OK for keeping your mail from getting wet or otherwise exposed to the elements, but it's not "secure" by any stretch of the imagination. For a truly secure box, you'll want to opt for something constructed of steel or heavy-duty aluminum. A box with this construction would require a thief to spend several minutes with an electric grinder or other tool to get in, which would attract quite a bit of unwanted attention, making your box a very unlikely target to begin with. Mailbox Sentinel boxes are built out of stainless steel and aluminum for maximum defense.
Another thing to consider about your box is how it's connected to the ground. There's no point in having a secure mailbox if it isn't anchored into something. We only recommend boxes that can be anchored onto a concrete pad or built into a wall or fence. This prevents thieves from being able to tip over or haul off your box. It may sound like an unlikely scenario, but you might as well protect yourself against everything that a thief can imagine.
2.      Locking Mechanism
There are only a handful of locking mechanisms for mailboxes. You are likely familiar with the hopper-style doors that are found on public USPS drop boxes all over town. These allow mail to be dropped in, but are designed to prevent prying hands from fishing mail out of the box. These are effective for your average letter mail, but are too small for all but the tiniest of parcels. That's where the digital access code mechanism comes in. All Mailbox Sentinel boxes feature a keypad on the outside of the box that delivery people can use to open a door on the front of the box, utilizing its full size to hold your parcels. How does a delivery person get the code? Simply provide it in the "Special Instructions" field on the shipping page of the site you order from, or on the delivery carrier's website. The driver will then have the code handy at the time of delivery. You can change the code at any time, and the keypad can be configured to run on electricity wired from your house, or through solar panels installed on the box. A physical key access door on the back of the box ensures you'll be able to access your mail even if the power is out.
3.      Capacity
One of the most important considerations with any secure mailbox is its capacity: how large a parcel can the box fit? Everyone's needs vary, but consider the size of the average package you receive, especially if you have recurring shipments from Amazon or items for your business. Items that are too large for a secure parcel box will just end up on your doorstep or back at the shipping center, so take some time to think about this before you commit to a box. Standard Mailbox Sentinel boxes will accommodate a parcel up to 28 x 18 x 16 inches, and we can work with you to create something larger based on your specific needs.
4.      Features
A secure mailbox can do so much more than just hold mail. Mailbox Sentinel boxes can be wired to accommodate Ring or other-brand doorbell cameras for an added layer of security at your home. These boxes can also be wired for lighting both inside and out, to help you see your mail when retrieving it at night or to help visitors spot your home more easily when arriving at night. Mailbox Sentinel boxes also offer a separate letter insert for normal paper mail that keeps it apart from your parcels, so you don't have to bend down every time to retrieve your mail from the bottom of the box.
5.      Appearance
For many homeowners, your mailbox is the first thing guests see when they arrive at your home. It's a beacon to visitors and it should represent your home and your personality appropriately. That's why Mailbox Sentinel boxes come standard in 15 different durable powdercoat finishes. However, customers can request virtually any color. If you want a box that matches or complements the design of your home, our builders can work with you to come up with a custom solution that meets your needs. Make your mailbox feel like home with a few custom touches.
As you can see, there's quite a bit to ponder when you're shopping for a parcel safe. We hope this guide will help you in finding the right locking mailbox for packages—one that will not only grant you peace of mind but also look good and function effectively. If you are interested in a locking mailbox, want to talk about options, or just have a question, feel free to contact us.