Locked Mailboxes: Finding the Best Option for Secure Deliveries with USPS, UPS, FedEx, or Amazon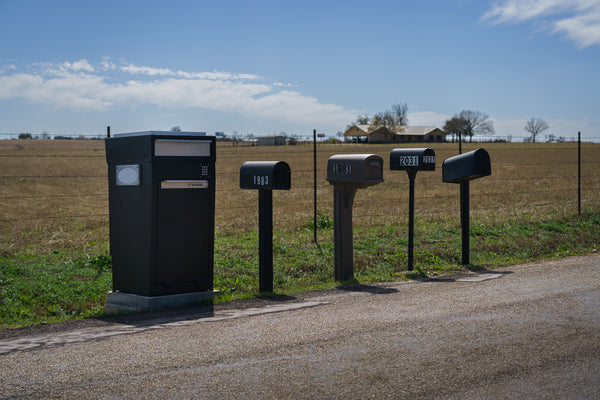 In a world where online shopping has become the norm and identity theft is a real concern, having a locking mailbox offers a sense of peace and security. The days of worrying about someone going through your mail or stealing your packages are over. With a
locked mailbox
, all of your valuable deliveries are kept safe and sound within a secure box, waiting for you to retrieve them whenever it's convenient. Gone are the days of rushing home to grab an important delivery or making arrangements to have an item shipped somewhere else for safekeeping, adding yet another errand to your already busy schedule.
The benefits of a 
locked mailbox
are evident, but finding the best one to suit your specific needs can be a daunting task. While many locking mailboxes share common features such as metal construction, an anchor system, and an access key or electronic code pad, it's essential to choose one that goes above and beyond to ensure the highest level of safety and convenience.
First and foremost, security should be a top priority when selecting a 
locked mailbox
. Look for mailboxes made of durable metals like aluminum or steel, as they provide excellent resistance against tampering and break-ins. These sturdy materials make it difficult for potential thieves to gain unauthorized access to your mail and packages, giving you peace of mind.
In addition to robust construction, an anchor system is a vital feature for any reliable locking mailbox. An anchor system allows you to securely attach your mailbox to the ground, making it nearly impossible for someone to remove the entire mailbox and attempt to gain access to its contents later. This added layer of protection ensures that your mailbox stays where it should be, safeguarding your deliveries.
Convenience is another critical factor to consider when choosing a locking mailbox. After all, the goal of investing in a secure mailbox is to make your life easier. Rather than having to navigate the different delivery methods and systems of various shipping carriers, it's advantageous to have a mailbox that can accommodate all delivery services seamlessly.
For example, MB Sentinel offers a cutting-edge solution for hassle-free deliveries. Their mailboxes feature a programmable electronic keypad that allows access to the secure parcel mailbox using a unique code. By providing the code in the "special instructions" section when placing an order, delivery personnel can effortlessly open the mailbox and safely leave your packages. This eliminates the need for complicated delivery instructions or additional stops in your daily errands just to retrieve your mail. Your deliveries will be waiting for you when you get home, safe and secure.
Furthermore, MB Sentinel's electronic keypad can be powered by an electrical line from your home or by solar power. This ensures that the keypad remains functional even during power outages or periods without direct sunlight. Additionally, there is a key override option, allowing you to access your packages even when the mailbox isn't receiving power. This thoughtful design ensures that the only people who have access to your mailbox are the individuals who should be in it.
When considering the size of a 
locked mailbox
, it's crucial to think about the types of items you regularly order or have shipped to your home. While it's impractical to expect a mailbox to accommodate oversized items like a 60-inch television, it should be able to fit common deliveries such as laptops, small appliances, or medium-sized packages. MB Sentinel's standard offering accommodates a 26 x 18 x 16-inch package, providing ample space for most deliveries. Should you have specific size requirements, they also offer custom sizes to meet your unique needs.
Aesthetics may not be the most critical aspect, but having a locking mailbox that complements the appearance of your home can enhance its overall curb appeal. MB Sentinel offers a range of powder-coated colors to choose from, allowing you to match your mailbox to your home's exterior or select a color that reflects your personal style. Additionally, they provide the option of custom-designed mailboxes, collaborating with you to create a mailbox that perfectly matches the architectural features of your home. This attention to detail ensures that your locking mailbox not only provides security and convenience but also adds a touch of elegance to your property.
In conclusion, finding the best
locked mailbox
for your needs requires careful consideration of several factors, including security, convenience, size, and aesthetics. By prioritizing these aspects, you can choose a locking mailbox that not only keeps your mail and packages safe and secure but also enhances your daily life. Don't let mail security become an afterthought—invest in a locking mailbox that meets all your requirements, and enjoy the peace of mind that comes with knowing your deliveries are protected. With a locking mailbox, life truly is better.