Revolutionizing Package Delivery: The Ultimate Package Delivery Box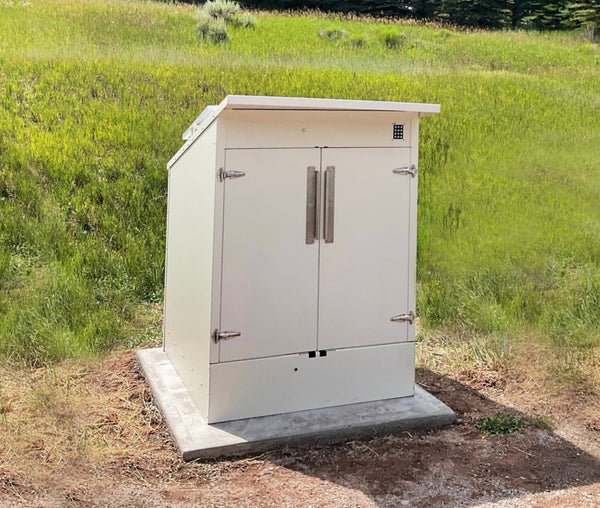 In the tranquil landscapes of Colorado, nestled in a community of 20+ homes, a unique challenge presented itself: steep hills and difficult terrain made it challenging for delivery carriers to reach residents' front doors. Residents faced the constant inconvenience of missed deliveries and struggled to ensure the safety of their packages. This problem led to an innovative solution, and thus was born the Package Cabin, a game-changing addition to the neighborhood.
The Package Cabin: A Revolution in HOA Package Delivery
At the heart of this solution is a robust 4-foot by 4-foot container, standing proudly on a 1-foot base, designed to cater to the unique needs of multi-family and HOA communities. This unassuming package delivery box packs a powerful punch with an impressive range of features to make package delivery more secure, convenient, and efficient than ever before.
Specifications
Maximum Package Size Received: 48x42x42
Say goodbye to the days of fretting over whether your parcel will fit in the box. This package delivery box can accommodate a wide range of parcel sizes, providing you with peace of mind for all your deliveries.
Maximum Security: Four Locks with 1,000 lbs of Tensile Strength Each
Security is a priority, and this package delivery box takes it to the next level. Equipped with four locks, each boasting a formidable 1,000 lbs of tensile strength, this package cabin ensures that your packages stay safe and sound until you retrieve them.
Keypad Controller: Securing Deliveries with Convenience
An easy-to-use keypad controller provides an added layer of security, ensuring that only authorized individuals can access your packages. This controller can be programmed to work for multiple deliveries, making it a breeze for both residents and delivery personnel.
Dimensions: 5'x 4'x 4'
With ample interior space, you can trust this package delivery box to accommodate a variety of package sizes while still maintaining a discreet and aesthetically pleasing exterior.
Solar-Powered Option
To enhance sustainability and energy efficiency, an optional solar-powered model is available. This feature not only reduces the carbon footprint but also ensures that your package delivery box remains operational even in the most remote locations.
Benefits for HOA Communities
The Package Cabin isn't just a convenient solution for residents; it's also a game-changer for HOA communities:
Enhanced Security:

With four locks and a keypad controller, your packages are safe from prying eyes and opportunistic thieves.
Reduced Environmental Impact

: The solar-powered option demonstrates your community's commitment to sustainability.
Streamlined Deliveries:

No more missed deliveries due to challenging terrain or inclement weather. Your packages will be securely stored and easily accessible.
Community Aesthetics:

The discreet design of the

package delivery box

 ensures it blends seamlessly with the surroundings.
Peace of Mind:

Residents can rest easy knowing their packages are secure, no matter the size.
Conclusion
The Package Cabin is more than just a simple solution to a challenging problem. It's a testament to human ingenuity and the power of innovation in solving everyday challenges. For HOA communities in steep and hard-to-reach areas, this package delivery box is a beacon of hope, making package deliveries easier and more secure.
So, if you're part of an HOA community or multi-family residence facing delivery woes, it's time to consider the
Package Cabin
. Revolutionize the way your community receives packages and enjoy the convenience, security, and peace of mind it offers. Say goodbye to the uphill battle of missed deliveries, and say hello to the future of package delivery!